"Salvation was very costly to Jesus, but is absolutely free to the world." - Amen!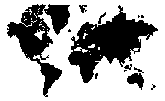 Missions
We Currently Support over 30 Gospel Preaching Missionaries in America and abroad. 
 Plus, other works such as Tabernacle Children's Home in Greenville, S. C., The Christian Law Association, Armed Forces Baptist Missions, Gospel Hour Radio Ministry, the Durham Rescue Mission, and Ambassador Baptist College.
 Mark 16:15  "And he said unto them, Go ye into all the world, and preach the gospel to every creature"